Before we bought the house, the owners had decided to replace the kitchen and so took a trip to MFI (now defunct) where they purchased new oak doors. They are most definitely not my style, but in the interests of saving money (& the environment), we are going to keep them.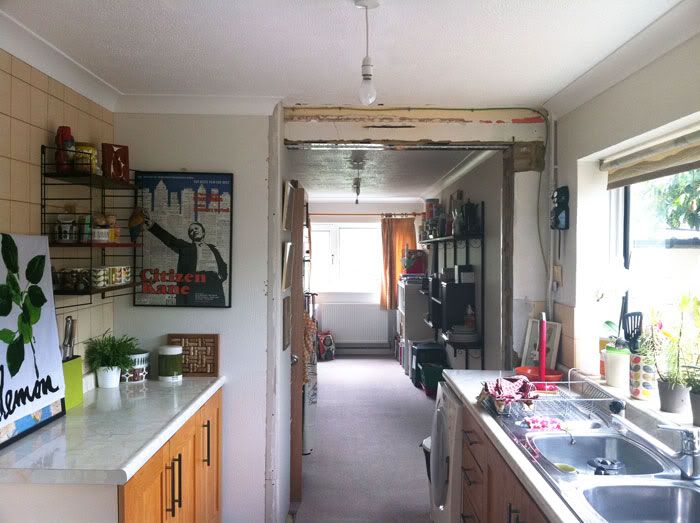 I am also in love with the worktop, which they had made specially out of formica and has a handy little lip around the edge to stop any liquids spilling. I think most visitors think it's hideous and I can see them biting their lip when I tell them it's my favourite thing about the kitchen. It's pretty naff, but there you go. What can I say? I pretend to love polished concrete worktops but really, I'm just a formica girl.
I can't WAIT to do something with the kitchen. It has carpet, it has artex, it has brown 70s tiles with fruit on them, it has unfinished walls...It definitely needs some love.
We took the archway out as planned, but unfortunately couldn't get rid of the wall completely because a) it's the old exterior wall and is therefore supporting, and b) the left side of the wall houses the waste pipe. So we made the best of it and it has let in a little more light into the breakfast room area (the longer room at the back). The kitchen is about 20 ft long. It's pretty insane, plus everything is spread out all over the place. No handy cooker-fridge-sink triangle
here. (My nephew calculated it takes approx 30 steps to make a cup of tea...)
And yet, I love the space. The light is amazing. I keep saying that I want to get rid of the tiles and replaster the room in one hit. One day this summer we will do it. The downstairs is virtually finished and it's just that room that's letting the side down.